Robertson, Thompson, Anderson and Leslie Ancestors
Cheryl Robertson
2 October 2018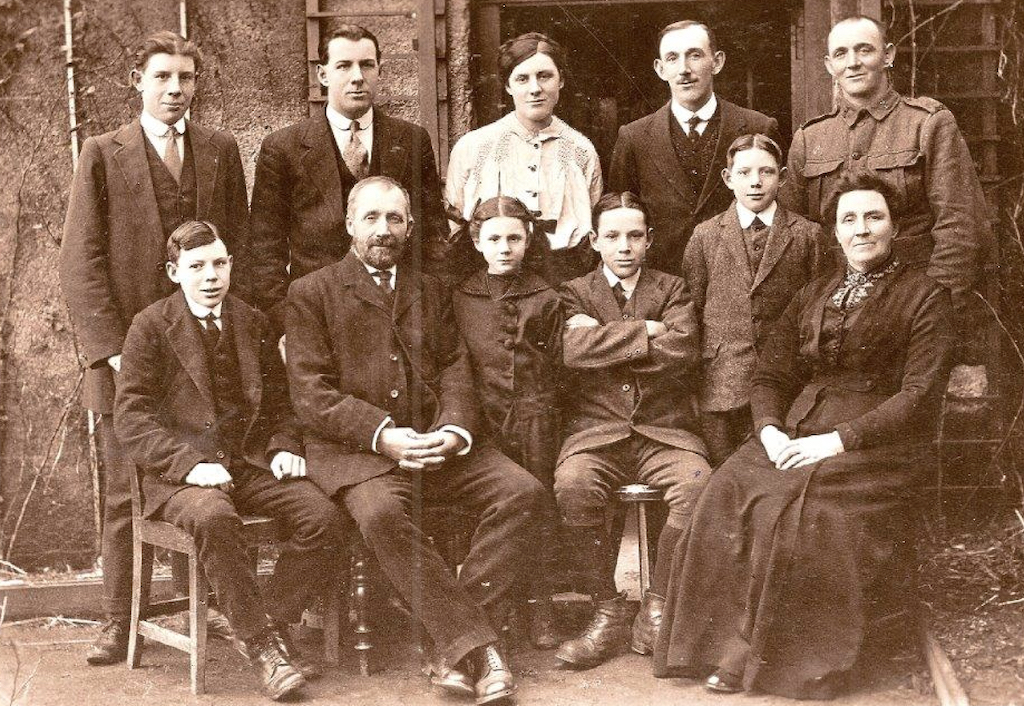 Our Robertson, Thompson, Anderson and Leslie ancestors would turn in their graves if they knew anything about the proposed desecration of the Bennachie range of hills in rural Aberdeenshire, north east Scotland. It was in this region that many of our relatives lived, hatched and died.
The proposed route of the extended A96 seems to run very near one of their original patches of turf, Ladywell Farm, a stone's throw from Insch. I feel oddly protective of this peaceful corner of the world that allowed my reason for being and from whence a raft of strong, adventurous and ambitious men and women emerged at a time when life wasn't easy.
Way before their arrival of course, was a Roman encampment near the foothills of Bennachie, a rather significant fact to preserve for posterity I would have thought. Scottish author Nancy Jardine states in her blog that near Durno in around AD84 was "the largest ancient Roman marching camp in northern Scotland". She adds that Mither Tap, a pinnacle shaped like a woman's breast, "is one of the most suitable contenders for the site of the Battle of Mons Graupius", said to have taken place that same year.
Wow. I can just imagine all those Romans and Picts lobbing missiles at each other. (The Romans won, this time anyway.) Of course all of this is circumstantial.
What is of more significance to me personally is that my great-grandparents, notably great-grandmother Elsie Dingwall Thompson – lived and bore 13 children "in the shadow of that same, gently rounded eminence called Bennachie", my father Sandy Robertson (christened James Alexander) wrote in a collection of family notes.
The Thompsons came to the foothills of Bennachie after sea captain and later on ship owner Andrew Thompson (1834-1888), master of two sailing ships - the Ella Beatrice and the tea clipper Mary Stewart. [Captain Andrew and his wife Catherine Booth Caird raised five boys and a girl named Catherine Ella Beatrice Thompson, the latter born aboard the Ella Beatrice in the China Seas in 1875. She died in Aberdeen aged 94 and was a great character known to my father's generation as Auntie Kate.]
Andrew sent his son William Thompson to learn about farming from a distant relative - a Mr Anderson of the farm Mill o' Wester Coull, lying some 25km as the crow flies from Bennachie. William learned all about farming as well as how to woo the boss's daughter, marrying Elsie Dingwall Anderson around 1880.
Of the 13 children born to William and Elsie, either at Mill o' Wester Coull or Ladywell Farm, Insch, four died in infancy; two of diptheria and a baby girl of multiple burns after a cat upset an oil lamp over the infant's cot.
Ladywell was apparently the venue for the Upper Garioch Champion ploughing match way back in 1893, perhaps family were involved in that too. They certainly would have known about Bennachie Pure Highland Malt which was sold in the village early in the 1900s. "It came in a bottle that carried the happy claim "there's nae sair heids in Bennachie" (there are no sore heads in Bennachie)", wrote Sandy, based on information from a leaflet entitled "Historic Insch" by Mrs Margaret G Clemo. The Thompson family spoke Buchan Doric and retained their strong accents until their deaths.
After World War 1 economic conditions in Scotland were dire. "Britons had been promised that once the Great War for Civilisation (as the commemorative medals put it) was over, the kingdom would be 'a land fit for heroes'," wrote Sandy. But it was not, and among the millions who left the mother country soon after 1918 were five Thompson brothers. "They were driven by a normal youthful urge to see the world and tame it, but unemployment - or certainly the lack of prospects - was the most powerful spur." Two more of the nine siblings left Scotland just before World War II.
John the eldest emigrated to New Zealand to farm. George went to India, became involved in banking then was the only one of the explorers to return to Scotland to live out his twilight years. Bob became a physician in Tamworth, Staffordshire and Bill farmed at Stonyford, near Tarland in the Coull district. Five ended up in Southern Rhodesia, the first being Andy in 1922, the trail blazer who encouraged the rest of the family to join him.
Charlie did so in 1926 after trying sugar planting in Cuba and Arthur joined in 1933, after a spell planting rubber in Sumatra. Elsie Jeannie Thompson (Robertson) my grandmother with her husband David Robertson– joined them in Southern Rhodesia in 1938 along with Peggy, the youngest of the nine.
Andy went out to Africa after finishing an apprenticeship in Britain, taking a job with South African Railways at Uitenhage near Port Elizabeth. However, after holidaying in Southern Rhodesia and meeting fellow Scot and fellow adventurer Jimmy Forbes, he decided not to return south. They had found gold, literally. There were a number of mines, some successful some not, the two major gold mines that stood out under the Thompson umbrella were the Piper Moss, near Kwe Kwe and the Big Ben, Gwanda. But it wasn't only gold the Thompsons were involved in; other business ventures included quarrying stone and making bricks. As for my roots - Elsie Jeannie Thompson married David Mavor Robertson, fourth in a family of six born to Alexander Troup Robertson and Bathia Robertson, nee Leslie. They took over the farm of Muiryheadless at Insch from David's father and there the first three of her seven children were born.
Their first child, Elsie Jnr, caused great consternation. She later wrote in a memoir: "As the first born, my appearance appalled and saddened my parents for coarse black hair grew from my ears, nose and cheeks. Imagine the horror, contemplating the future, theirs and mine. I gather I became acceptable when the hair all fell out a couple of days later."
When Elsie Jnr was five years old the family including my great-granny Thompson moved to East Huxterstone, Kingswells, an 89-acre property just four miles out of Aberdeen and within sight of Kingshill Farm, Countesswells. I can only think that by then William Thompson, a diabetic, had died. In the days before insulin was discovered little could be done about it apart from to follow a very strict diet. Elsie Jnr wrote: "The name of Huxterstone derived from the lonely massive round stone in one of the fields (parks we called them) on which hucksters in days gone by used to rest on their way into the town with their wares. The stone was lonely in the sense the fields around were pure soil, which showed up a lovely wet chocolate-sauce colour under the plough."
Elsie Jnr said it may have appeared that her mother's life as a farmer's wife in the north-east of Scotland was "one of sheer drudgery, but if she protested her multifarious duties, it must have been quietly, for I never heard her complain. As well as chores in the house, milk-house, outside kitchen and wash-house, she used to help with the milking, leaning her head covered in a cloth bonnet against the cow's side. As well as humans (we numbered 14 at our peak) who had to be fed three times a day, there was poultry at all stages, turkeys in season and pigs. When crockery got broken, it was great fun to take big stones and smash it into tiny pieces as grit for the turkeys and hens."
During these post-Depression years Elsie Jnr as a child never felt any hardships but assumed that hard cash was a grim problem, not only for farmers in north east Scotland but all over Britain. David Robertson left to find a farm in Southern Rhodesia late in 1937, while the rest of the family moved to live in the top half of a house at 454 King Street, Aberdeen. (Way before that one of the seven children – Catherine - had died aged six from a hole in the heart.)
Eventually his wife Elsie Jeannie and their six children – Elsie Jnr, William, Leslie, King (christened Arthur), Margaret and Sandy (my father, the youngest of the litter), plus Peggy sailed to Cape Town under the 1820 Settler Scheme, aboard the S.S. Dunbar Castle of the Union Castle Line. They then took a train, and two nights and a day later on 8th June 1938 they reached Bulawayo and were reunited with David and the Thompson uncles.
David rented a 3,000 acre farm near Bulawayo called Aisleby. It was originally stables with cement floors so no artchitectural wonder. It was pretty tough living initially as all the family succumbed to malaria at one time or the other, including David contracting the most serious cerebral malaria. By some stroke of luck they survived all these bouts.
The children got to school in Bulawayo by a combination of the family Studebaker car driven by Elsie Jnr and a two rubber-wheeled cart drawn by two donkeys.
Later on when David was not fit enough to run the big farm the family moved to a smaller 13-acre property east of Bulawayo, with their cattle being grazed on a neighbouring property. They named the property Bennachie for Scotland was never far from their hearts. Elsie Jeannie Robertson by now had diabetes but she took to raising poultry to help make ends meet.

During World War II son Bill was called up and joined the troops in North Africa, luckily returning in one piece. Another son Leslie died in a horrific industrial accident at the mill where he was working. "Peggy became head English mistress at Eveline Girls' School, with her still very Scottish accent, but those girls have had memorable English lessons," wrote Elsie Jnr. In 1940, Peggy and a young ship's engineer-turned-gold miner called Sandy Craig, from Inverurie, married and went to dig for gold at the Legion Mine about 100 miles south-east of Bulawayo.

It is sad that families have to scatter like the Thompsons did out of necessity, but history repeats itself for so too did the new generations that arose from Southern Rhodesia have to scatter, although for different reasons. Politics and politicians again! Southern Rhodesia became Rhodesia which became Zimbabwe and slowly over the years families left for Britain, Australia, the United Arab Emirates, South Africa and some stayed too.

I'd like to say all of us retain a genuine fondness towards Scotland and of course, Bennachie. It would be most disappointing for that region from whence we came to be carved up - the last remnant of any permanence we had gone forever.

Read more postings about Bennachie in the Save Bennachie Blog.